** A STRONG COMMUNITY **
MOST RECENT EVENT: Habitat for Humanity©, Grid Alternatives©, and Strong Electric & Solar along with a number of community volunteers team up to install 3 photovoltaic systems on low income housing in Brisbane, CA. Oct 20. The system utilized Kyocera modules, SMA Sunny Boy inverters, and ProSolar mounting Rails
RECENT EVENT: Our most recent venture is a partnership with www.solarrichmond.org where disadvantaged youth are provided the opportunity to learn job skills. Together we installed 3kW in Richmond at the end of September 2006. Pictured above Adam (Strong Electric), John, Saddi, and Ken work together on a composite shingle roof to install Sharp 140W Modules mounted on UniRAC module framing with a Xantrex GT3.0 Inverter. Event Video Forthcoming...
Saddi, John, Ken, and Adam (left to right at top of collage) install 3kW as part of a Richmond job training program.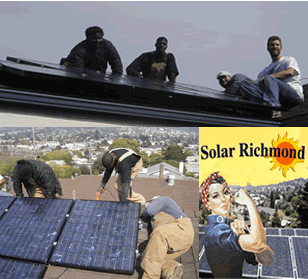 RECENT EVENT: Acalanes High School, in Lafayette, CA, was kind enough to invite me to speak to the Environmental Club meeting on Monday during lunch break. Thanks for listening! Also, I would like to thank Janet Thomas and John Nickerson for the invitation and the oppportunity for future educational opportunities.
THANK YOU CLIENTS:
Dear Strong Supporters,

I hope all are well. I am writing to update you on my attempt to spread the solar message, and with today's unfurling of the Space Station's new Photovoltaic system, I thought it a good time to summarize my experiences. I also want to thank all my clients and associates for your fantastic support of photovoltaics, for none of this is possible without your belief in the technology.
While travelling in the USA, I learned more from the kids and educators than might be expected as photovoltaics is making a name for itself acrosst the country. In Philadelphia, there exists a growing grant program for funding photovoltaic systems on low-income housing with a few of the homes right off the freeway from the airport, as the kids pointed out to me. In Chicago, BP gas station right off the Elevated Train Orange line is a shining example of PV technology, and as a local librarian told me, there also exists a slow growing "zero energy solar homes program" that has begun to build a small number of PV low income homes. Nashville, St. Louis, and Boston were prime regions for educating as programs were not as well known or do not exist. The Nashville main Library provided a nice location for informal honky tonk as well as discussion of the potential for PV on the regions many rural locales. It remains difficult to promote solar in areas were coal is cheap; yet, the photos of the independent energy systems we are building in California is creating believers as independence and freedom are strong themes these days.

In the British West Indies, Alwyn Allison Primary school was kind enough to allow me classroom time and outdoor experiment time. In this location, the island imports 90% of its energy resources, spending >50% of their foreign currency on these resources. As the kids already know, the sun is everywhere on the island. The children (photos will be on the website upon my return) were incredibly attentive as we discussed solar thermal and photovoltaic technologies as well as more basic concepts of light and heat; then, brief experiments led to a great question session. I will be sending the school a small PV water pump for the children to examine. Also, I have contacted the local utility here in Anguilla, where my aunt works, to try and promote solar at the new developments. It remains highly unlikely. Despite the millions of ($) USD in development, there still exists a dirth of support for even basic solar thermal technology let alone PV on the multi-million dollar homes being sold to wealthy foreigners. Such is life.
Students (below) at Alwyn Allison Primary School learn about solar and perform outdoor experiments all under the watchful smile of their Principal Arthur Egel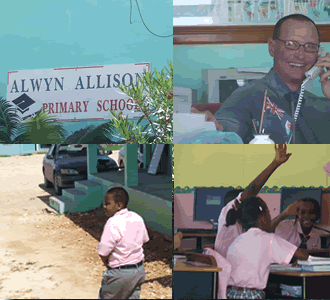 I learned that In Jamaica, Eaton Hughton, director of the Jamaica Solar Energy Association, is pushing for legislative incorporation of net metering laws and we worked briefly on a project for PV with battery backup at Edens Garden in the 5th Kingston district. I must admit that it is incredibly difficult to work in a such a different culture, but hopefully my budgets and basic designs at least furthered his interest.

Again, I thank ALL of you for taking up this growing technology and believing in distributed, independent energy production. Also, thank you to everyone who allowed me lodging during my travels. I am returning to solarize in the Bay Area shortly, and I will update the website with more information on these great programs around the country as well as some programs here at home in the Bay Area.

be well,
Adam